Character Licensing Available

Rocket Hound

Rocket Hound is an older retired Grey Hound who has been rescued from the race track. He has a dark black spot on his rear and one that runs along his back down his leg. There are a few spots scattered across his body, but for the most part, he is white. His ears are black as are the patches around his eyes. His forehead is white at the top and cuts down the middle of his face to the white muzzle below. His nose is brown and there is a line of black fur around his mouth that almost makes him look as if he is constantly smiling.

Cody

Cody s a male chocolate lab puppy. He has brown eyes and brown fur that is velvety soft. Cody is pretty rambunctious getting into one thing after another.

Taz

Male Australian Shepard puppy. He has blue eyes. There is a white hourglass shape on his head with soft fluff. Around his eyes is brown, grey, black and just a hint of white all mottled together. The same print is on his back and his ears. He has white fur from his chin all the way down his chest and two front legs. His back legs have the same colors, but his paws are white.

Callie

Callie is a female calico kitten. She has white fur that fluffs out on her chest. Her muzzle is white. Her nose is pink. Her eyes are golden and the fur surrounding them is filled with splotches of orange and black. These spots stretch out on her back as well, but the majority of her fur is white. She has a white spot of fur on her tail.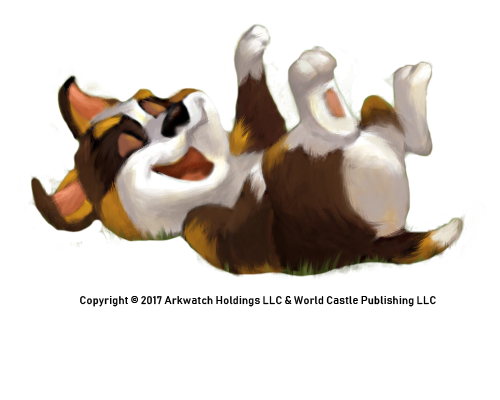 Annie

Female border collie puppy. Even though she is slightly timid compared to the other pups, she still enjoys a good adventure. Her fur is black and white. Her nose is black surrounded by white fur around it. There is a small white patch at her forehead that makes a small line down to connect to her white muzzle. Her eyes are chocolate colored. She has a white bib of fur under on her chest and four white paws.

Thor

An average grey squirrel who thinks that he is like a god. He is constantly chucking nuts at the dogs below. He has a bushy tail with a hint of white fluff on the end. There are a few random long white hairs that stick out of his ears. He has brown beady eyes and a light grey nose.

All rights reserved. Rocket Hound™ and friends are copyrighted and registered Trademarks and Trademark of Arkwatch Holdings, LLC. No part of this publication may be reproduced, stored in a retrieval system, or transmitted, in any form or by any means—electronic, Digital, mechanical,  photocopying, recording, or any other—except for brief quotations in printed reviews, without the prior permission of the publisher.